Yamanashi Kofu Early Music Contest

1995 – present
Copyright © 2017 CBH
---

KEIJI TOMIYASU 2003
Poster design for the 2003 Yamanashi Contest
Haruo Hikino tuning the Marc Ducornet Ruckers/Taskin
using the Verituner Pocket program on his HP iPAQ hx279
for the first round in 2009.

NASA VISIBLE EARTH

For over twenty-five years at cherry blossom time a little to the west of Tokyo, the Japanese early music people gather in the city of Kofu in Yamanashi Prefecture. There is a phenomenal amount of harpsichord activity in Japan, and this is clearly shown by the large number of Japanese makers who congregate to show their wares every odd year for the Harpsichord Contest held at Kofu's Kenmin Bunka Hall.
Ms Tsuneko Arakawa heads the committee organizing the annual event, and the Contest now has its own website. The focus is on harpsichord only every second year. Not so well known outside Japan, only recently have entries been received from a few foreign harpsichordists.
The panel of distinguished judges, however, always includes a Westerner: Over the years Bob van Asperen, Martin Gester, Ketil Haugsand, Jan Willem Jansen, Françoise Lengellé, Lars Ulrik Mortensen, Aline Zylberajch and others have taken part. The high standard of the contest is preserved when the panel frequently decides not to award particular prizes. In 2007, for example, there were two equal 3rd prizes; in 2009, two equal 2nd prizes; in 2012, a third prize and an encouragement award; and no first prizes were awarded in any category in 2016.
Since 1995, my colleague Tae Ioka from L'Oiseau-Lyre House co ltd has always invited me to assist in Yamanashi with her technician Haruo Hikino. Marc Ducornet has often joined us from Paris, as Tae has been active for many years in providing his instruments from her premises in Osaka and Tokyo. In 2003, we helped open Tae's new premises close to Akihabara in Central Tokyo—the featured harpsichordist being Yoshio Watanabe. The only other European makers who have ever visited Yamanashi in my time are Joop Klinkhamer with Anton Amir, and Guido Bizzi.
The camaraderie amongst the local makers is astonishing—and not so readily seen in other parts of the world: All assist in the unloading of the numerous diverse instruments in the car park, the negotiation of the goods lift, and the long corridors and ramps before arrival in the upstairs exhibition room with one entire wall a panoramic picture window facing Mt Fuji.
As soon as the first few instruments are unpacked and setup, the competitors swarm into the room and scramble for last-minute practice. It's wall-to-wall cacophony, as you can hear from the movies below. In the quieter moments, the makers compare notes and study the other instruments with interest. The early rounds of the contest are held in an intimate studio with perhaps only two harpsichords and organ for the competitors to play. Then the contest moves to the main stage, and the finalists are able to choose whichever instruments from any of those exhibited. On the last day there are often six or more early keyboards onstage, with strictly allocated tuning time.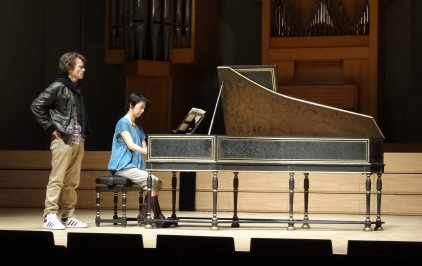 CAREY BEEBE
Christophe Rousset & Mayako Soné at the Marc Ducornet Colmar copy
Yamanashi always provides an intense and action-packed three days, and then we often have to load up and rush with the instruments to Tokyo or Osaka for concerts or masterclasses by the visiting European the next day. Fortunately, some years have been more leisurely, with the travel providing us an opportunity to visit a most beautiful part of the world at its best season. We've enjoyed Kyoto, Lake Biwa, Nikko and Mt Fuji, as well as the important collection at the Hamamatsu Museum of Musical Instruments—and you can't go to that city without trying the famous unagi (eel).
The Contest was due to reach its 25th year in 2011, this milestone marked with a new name: The Early Music Festival, including International Competition for Early Music, Yamanashi. It was to be held as usual over the last weekend in April, but because of the devastation of the March 11 earthquake and tsunami—and especially the uncertainty of the effects of radiation from Fukushima—it was regretfully postponed to 2012.
At a time when many prominent overseas artists and groups were canceling their visits to Japan, instead of Yamanashi in 2011, Japanese music lovers were treated to two sold-out harpsichord recitals by Christophe Rousset in aid of the East Japan Earthquake Benefit.
Christophe played a program of Louis and François Couperin in Ishibashi Memorial Hall Tokyo (June 1) and Osaka (June 3), as well as giving an intense full-day masterclass for eleven young harpsichordists in Osaka. The Tokyo concert was recorded for later broadcast by NHK. Marc Ducornet generously flew his copy of the Colmar Ruckers from Paris for the events—a wonderful instrument which I've prepared on three continents: The temperament chosen for the recitals was D'Alembert/Rousseau, and the program of the Osaka concert is available here.
In 2012, a set contemporary piece was included in the Yamanashi Contest final round: Competitors could choose either movement of Sound Mosaic III, written in 2010 by Yoshibumi Fujiwara (藤原 嘉文).
2016 was a harpsichord/fortepiano year: Martin Gester and Aline Zylberajch were the visiting Western members of the jury. The contemporary piece was Pantomime, written in 2015 by Masakazu Yamamoto (山本雅一).
2018 will be another harpsichord/fortepiano year, with Robert Hill the Western member of the Jury. The competition rules, repertoire and entry form can be found here.
2016 PRIZE WINNERS
Harpsichord
2. Anastasia ANTONOVA

Fortepiano
2. Artem BELOGUROV

Ensemble
3. Duo HPD (C19th guitar duo)
Special mention: Camerata D'Amico
2014 PRIZE WINNERS
1. NAKAGAWA Gaku   中川岳
2. KAWAGUCHI Naruhiko  川口成彦
Special mentions: SUTO Machiko  須藤真地子 & ISHIKAWA Yukari   石川友香里
---

Harpsichord tuners' nightmare at Yamanashi Kofu, Japan 2012
Three harpsichord tuners must do battle preparing their instruments as rapidly as possible.

Yamanashi Kofu, Japan 2009


A six minute tour around the harpsichord exhibition room on arrival day (Friday May 1 2009) at the 23rd Early Music Contest in Yamanashi Kofu, Japan.

Yamanashi Kofu, Japan 2007


A quick and somewhat bumpy handheld pan around the harpsichord exhibition room on arrival day at the 21st Early Music Contest in Yamanashi Kofu, Japan.

---

FRANÇOISE LENGELLÉ

Haruo Hikino, Marc Ducornet,
Tae Ioka & Carey Beebe
Kinkaku-ji, Japan 1997

          




Some of the exhibitors at the Yamanashi Kofu Early Music Contest 2009

Front row, L to R: Tae Ioka (L'Oiseau-Lyre House co ltd); Shunji Satoh (Tokyo Koten Gakki Center);
Tsuneko Arakawa (Head, Early Music Competition Organizing Committee);
Fukuichi Itoh; Tetsuo Kusakari; Seizo Yokota; Haruo Hikino (L'Oiseau-Lyre House co ltd).
Back row: Carey Beebe; Toshihiko Umeoka; Toshiya Nogami; Yasushi Takahashi; Tomo Miyake.



---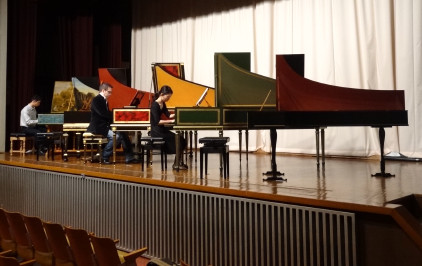 CAREY BEEBE
Instruments on stage for the 2012 final, with three competitors warming up
---
---