---
Work Experience

Entire Contents Copyright © 2009 CBH
---
---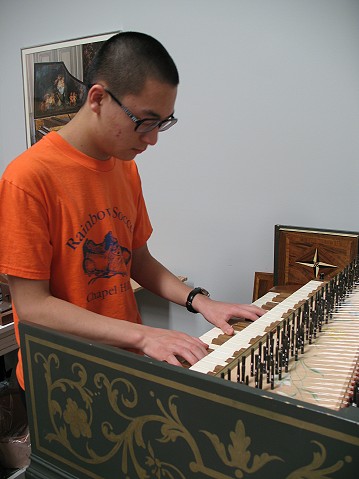 As a piano student of some years—most recently studying in Seoul with Lee Hyun-Joo—seventeen-year old Hwang Yoon-Chan always dreamed of exploring the harpsichord. His opportunity came in February 2009, when just before entering his final year at Duksoo High School, he came to Sydney to spend some time in the harpsichord workshop as our first overseas intern.
We had an intense week. Our major project was the completion of the regulation of the Wollongong Conservatorium Zell copy built in 1985 by English maker Robert Deegan. This instrument was undergoing its first major service since new, and had been restrung with Rose wire the previous week. Yoon-Chan helped balance the lower keyboard before we installed the action, the whole project giving him a good idea of how much the harpsichord relies on the accurate setting up of the machine. After some playing in, we delivered it on his last day.
Yoon-Chan had been a regular participant on the Schumann & Clara internet café run on the Korean ISP naver.com. It was too tempting to have a native Korean speaker on tap for a week—his English was excellent, no doubt helped by his two years of elementary schooling in North Carolina. We worked together on the technical translations for the Korean Harpsichord Lexicon, and spent more time besides on the internet researching early music in Korea as I was planning my sixth Asian harpsichord maintenance tour to commence in April 2009.
While there were no harpsichord concerts the week that he chose to come to Sydney, I was able to give Yoon-Chan a private backstage tour of the Sydney Opera House, and we saw the enchanting Opera Australia production of Die Zauberflöte instead.
---
---
---