---
Work Experience

Entire Contents Copyright © 2015 CBH
---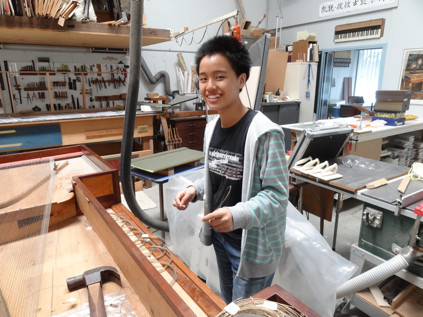 CAREY BEEBE

Lisa helping string the
1796 Broadwood square piano
Some students are very keen: Lisa wrote to me six months ahead of time to arrange her workplace learning week in the harpsichord workshop. She was in year 10 at one of Sydney's top selective schools when she came for work experience in November 2015.
There's something different happening in the workshop every week, so the students have to be prepared to cope with a variety of tasks. During our week together, the main job was preparation and painting of a Zuckermann Flemish Single IV for a musician in Brisbane. Sanding is not much fun, but takes some skill to get right! The new Klop continuo organ for the Australian Brandenburg Orchestra also cleared through Customs and Quarantine and was delivered to the workshop, and we had to collect an old harpsichord from a home in Maroubra.
On our final day, we went to the Sydney Conservatorium where I had two fortepianos to tune, and Lisa was in perfect time for her audition on viola for the Con's Rising Stars program late that afternoon.
---
---
---