---
Work Experience

Entire Contents Copyright © 2021 CBH
---
---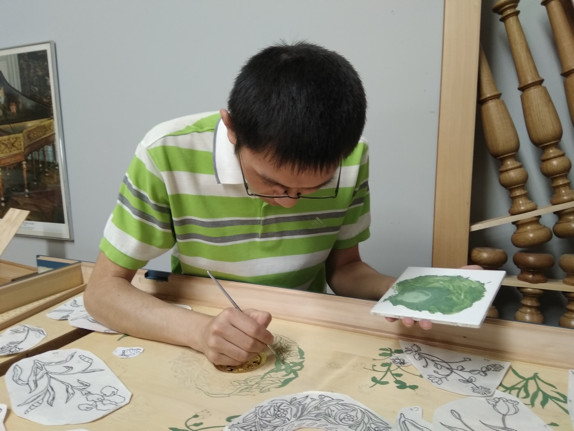 CAREY BEEBE

Weicong Li painting the soundboard
on his first Ruckers Single harpsichord in 2019.
Weicong Li (李瑋聰) began writing to me about harpsichords and harpsichord making in early 2010. He had recently completed his BENG degree at Shanghai Jiao Tong University (上海交通大学) and had already commenced his Master's in Materials Physics & Chemistry.
Weicong was very keen to meet me and discuss his ideas of a harpsichord making career. We had the opportunity in May 2010, when he caught the night train from Shanghai to Shenzhen to watch me work on the Neupert harpsichord borrowed from Xinghai Concert Hall in Guangzhou for Emmanuel Pahud's concert with Trevor Pinnock and Jonathan Manson. We continued to Shanghai where my task was to find a suitable harpsichord for the musicians visiting from The Royal Conservatoire of The Hague. You can read about our experiences here.
As he researched possibilities for training, Weicong corresponded with several harpsichord makers on three continents. He found the means to come to Sydney: After completing his Master's in March 2012, he was accepted on full scholarship for his PHD in music acoustics at UNSW, where he has been researching at the lab since July 2012. Weicong completed his thesis titled The physics of playing clarinet and saxophone: how players control articulation and timbre in June 2016.
During this time, Weicong would usually spend a day a week at the harpsichord workshop, finding new delight in each visit. There were not only the facets of the craft learn, but also the business. He was constantly amazed at the number and variety of instruments that pass through Peakhurst, each one adding to his experience. There were many skills to learn, from moving and tuning, to repair, voicing and regulation.
Interest in the harpsichord is rapidly growing in mainland China, and there are now teachers in Beijing, Shanghai, Wuhan and Xi'an. Weicong's involvement in the Chinese microblogging service Weibo (新浪微博) and Wechat groups (微信) is pivotal in educating music lovers and aiding their appreciation of good harpsichords and their music.
After ten years of his harpsichord making journey, Weicong completed his first Ruckers Single harpsichord in 2020. He is looking forward to building more instruments in the future.

---
---
---