---
TPW Italian Virginal
Instrument conceived & designed by Emmanuel Danset
Copyright © 2022 TPW
---
THE PARIS WORKSHOP

Early Keyboard Instruments for professional and amateur builders

Instruments à clavier de facture historique pour facteurs professionnels et amateurs
---
The Italian Virginal is our latest design, inspired by an unusual original instrument from the early 18th century with an inset keyboard.

The characteristic virginal tone emanating from the extra enclosed space at the right hand of the keyboard truly envelops the player. (There is a tool box at the corresponding left hand of the keyboard.) The case is of "false inner-outer" construction with the inner natural maple veneers contrasted against the painted lime exterior.

We have increased the versatility for modern players by fitting a fully chromatic keyboard, and allowing for transposition both up to A440 without the loss of the top note, and down to A392.

This is a most interesting instrument to build and play, and very suitable for musicians of all standards to explore the repertoire.

Our photograph shows the prototype with cherry inner veneers.
---
SPECIFICATIONS
Range

56+1 notes: GG–d''', transposable A392/A415/A440

Disposition
1x8⁠´, no buff
Wood

Case in lime, lid and bottom in poplar
Inner case veneers in maple
Swiss pine soundboard
Bridge, nut, music desk & lid stick in cherry
Beech stand

Keyboard
Boxwood naturals and fruitwood accidentals
Action
Traditional wooden jacks working in boxguide
Stand
Turned, demountable
Dimensions
Length 168cm ~ Width 57cm ~ Depth of case 21cm
Weight
about 20kg
Instructions
Manual in English
full size paper drawing
Level of difficulty
Suitable for beginners
Standard version
Version 1, ready for assembly
Price
Standard version 1, ready for assembly $9620
Australian dollar GST-inclusive prices ex Peakhurst effective 1 April 2022.
Please enquire for export pricing.
Prices and specifications subject to change without notice.
---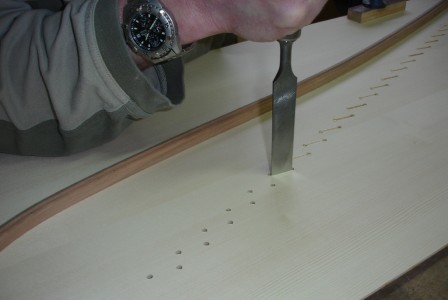 From our series of Virginal construction pictures:
Cutting the jack mortises

Sample page from the Virginal Construction Manual describing this process
---
---
---