---
Press Gallery

Copyright © 2014 CBH & individual authors & photographers
---
Feathers fly as harpsichords restored

WOLTER PEETERS / FAIRFAX MEDIA

Harping on success: Carey Beebe started on a piano but loves the harpsichord.

WOLTER PEETERS / FAIRFAX MEDIA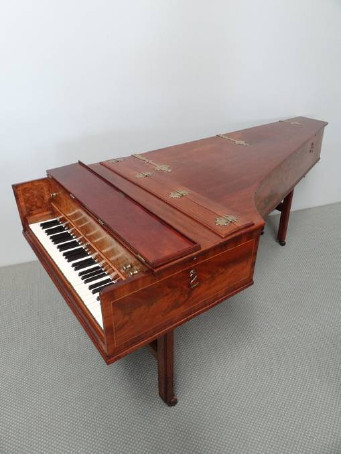 CAREY BEEBE

The winner: The restored
1773 Kirckman, London-made harpsichord.
FEATHERS figure prominently in the life of another National Trust award recipient.
A musical instrument maker, Carey Beebe of Peakhurst, needs crow feathers to help restore centuries-old harpsichords.
He shaves off the fluffy bits of the feathers to use part of the quills for repairs and for musicians to pluck.
The other feather he can now figuratively place in his hat is the National Trust award for original construction practices using all possible conserved materials.
It was Mr Beebe's restored 1773 Kirckman, London-made harpsichord which won him the award.
The instrument has already had a big work-out last November when Australian soprano Sara Macliver used it during a performance in the city.
In all Mr Beebe has built more than 50 harpsichords.
"I learned piano from an early age but it wasn't until I got to the Sydney Conservatorium that I discovered the harpsichord," he said.
"The only way I could get an instrument to practise on was to build one, which I did with the help of my father.
"I had no idea at the time that it would become my life."
Text by Monica Heary
Photographs by Wolter Peeters
St George & Sutherland Shire Leader May 24, 2014

---
---
---