---
Original Instrument Report
Copyright © 2020 CBH
---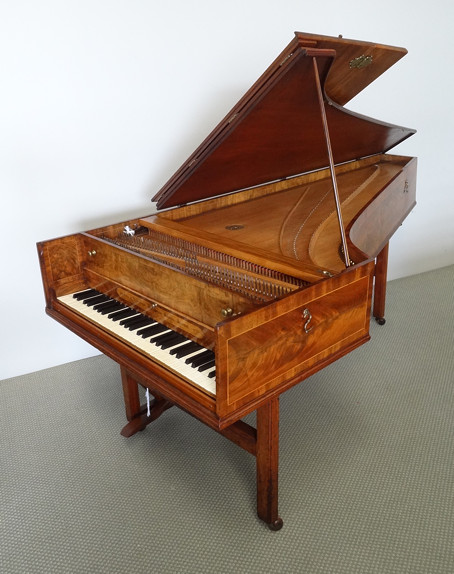 CAREY BEEBE

Single-manual harpsichord by Jacob & Abraham Kirckman, London 1773
SINGLE-MANUAL HARPSICHORD, Jacob and Abraham Kirckman, London 1773

Maker
Jacob Kirchmann (1710–1792) was born in Bischweiler near Strasbourg and went to England in the early 1730s to work with Tabel, anglicizing his family name. His earliest surviving instrument is a double-manual harpsichord dated 1744 believed to be now in private ownership. There are perhaps eighty-three surviving harpsichords, six spinets, and a claviorganum signed with his own name. The latest surviving instrument of these is a double-manual harpsichord from 1772, now in playing condition in the Horniman Museum and Library in London. In the same year as that instrument was built, Jacob took his nephew Abraham (1737–1794) into the business, and the instruments were signed with both their names from then until at least 1790. There are perhaps fifty-three such surviving harpsichords signed with both their names. Abraham's son Joseph (1763–1830) joined the firm in 1789, and managed it from 1794. The business survived in various forms and was active building pianos until 1896 when it was absorbed by Collard & Collard.
Other Kirckman instruments in Australia
In addition to this instrument and my 1775 Kirckman described on these pages, there is a Kirckman single inscribed Kirckman Londini 1760 in the Eileen Joyce Studio, University of Western Australia, in Perth; and a Kirckman double inscribed Jacobus Kirckman Londini Fecit 1763 in Sydney's Museum of Applied Arts & Sciences.
Further discussion
Beurmann, Andreas Harpsichords and More Georg Olms Verlag, Hildesheim 2012, pp209–242
Boalch, Donald H Makers of the Harpsichord & Clavichord 1440–1840 Third Edition, Oxford 1995, pp103–108; 423–460
Clinkscale, Martha Novak Makers of the Piano 1700–1820 Oxford University Press, Oxford 1995, pp165–167
Clinkscale, Martha Novak Makers of the Piano Volume 2 1700–1820 Oxford University Press, Oxford 1999, pp210, 211
Harding, Rosamond E M The Piano-Forte — Its History traced to the Great Exhibition of 1851 Cambridge University Press, Cambridge 1933, p397
Mould, Charles The Development of the English Harpsichord with particular reference to the work of Kirkman Unpublished Doctoral thesis, Oxford 1976
Mould, Charles; Mole, Peter & Strange, Thomas Jacob Kirkman, Harpsichord Maker to Her Majesty Lulu, 2016
---
Inscriptions
The nameboard batten is inscribed Jacobus et Abraham Kirckman Londini Fecerunt 1773 and the soundboard contains the third variety of rose (Mould's Type C1) used by Kirckman, a ø74mm gilt metal trophy of musical instruments reading from the keyboard and incorporating the initials I.K. The instrument was restored in 1971 by Dennis Woolley as noted in pencil on the outside faces of the top and bottom keys: Restored JULY 1971 by Dennis Woolley, Liss, Hants.


CAREY BEEBE

Restorer's pencil inscription on the outside face of the bottom key of the 1773 Kirckman
Previous restoration
The instrument was sympathetically restored in 1971 by Dennis Woolley as noted [see above] on two keys. From the reference in the 3rd edition of Boalch [see below], and evidence remaining on the instrument, the following work was likely to have been undertaken at that time in his workshop:
Replace failed extreme treble section (31 strings) of bentside hitchpinrail, and reinforce with vertical screws
Replace failed tail hitchpinrail
Remove and refasten of bottom
Flatten buckled soundboard
Replace front strip of jackrail
Case and pedal mechanism repair
Fit additional machine stop leaf spring to reinforce original
Replace inset lock on fallboard
Restring with bronze and steel wire, retaining original undrilled tuning pins
Revoice with quill
Replace dampers
Make music desk & lid stick
Keyboard
The five-octave keyboard has sixty notes FF,GG–f''' (ie without FF♯). The Stichmaß is 485mm. The lime keylevers are each numbered by hand in ink in front of the balance mortise. The keys are guided by front pins and are appreciably head-heavy. The balance rail and frontrail are oak. The ivory-covered naturals have 40mm heads with two score marks (one at the join, the other about 5mm in front) and 100–103mm tails. The moulded boxwood keyfronts and ivory covers make the natural heads 22mm deep. The beveled solid ebony sharps are 10–12mm wide, and 84–87mm in length. The sheepskin-covered keyend cloths appear to be original or at least early, with an additional interspersed layer of modern thin red cloth on some keys. One layer of original green woolly cloth remains on the frontrail, and another on the jackrail. All the other cloths were modern replacements including the cloth balance punchings.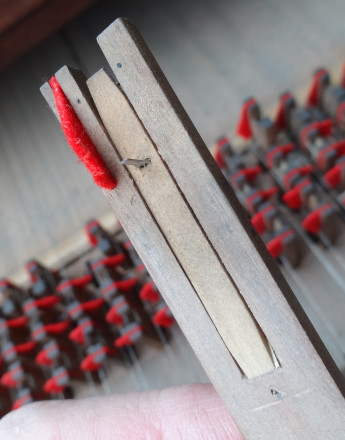 CAREY BEEBE

4⁠´ jack from the 1773 Kirckman
Disposition & Action
There are three registers: Front 8⁠´ ←, Back 8⁠´→ & 4⁠´ ←. There is no harp stop. (The information in Boalch 3 is erroneous and it was probably intended to mention machine stop instead.) In Mould's alphanumeric coding system, this instrument is represented as 1284OOMO. The action is exceptionally well preserved. With the exception of six jacks which are by Kirckman but not original to this instrument—Front 8⁠´ 20, 26; Back 8⁠´ 44, 58; 4⁠´ 1, 35—the pearwood jacks are original and retain their original tongues punched with curved mortises for quill and sprung with boar bristle. The tongues are made of holly except those of both unison choirs from the tenor f♯ up, which in Kirckman's usual manner, are of boxwood. All jacks have been stamped with the note number and choir number, the Front 8⁠´ being register 1. All jacks have tongue restraining staples. The unison choir jacks have double damper slots; the 4⁠´ single. The registers were carefully and precisely made from single laths of service tree, controlled by an original and complete set of brass-knobbed iron hand-stops and by the machine-stop pedal which pivots on a bottom brace on the front left stand leg. In normal operation, assuming the Back 8⁠´ stop lever is engaged, all three choirs sound: The  4⁠´ and Front 8⁠´ stop levers are quite superfluous because those registers are sprung in the ON position. Originally, the machine mechanism could be partly overridden by wedging the 4⁠´ register in the OFF position with a stylus of flattened brass rod, tethered to the spine soundboard moulding. (This was reinstated in 2020, based on the surviving stylus on the 1775 Kirckman double.) As the machine pedal is progressively depressed, the 4⁠´ is turned OFF, followed by the front 8⁠´, leaving only the back 8⁠´ sounding—assuming the latter's stop lever is engaged. The hand-stops penetrate the nameboard and are arranged as follows:
      At the bass:   4⁠´ ←     At the treble:  Front 8⁠´ ← & Back 8⁠´→
Stringing
During its 1971 restoration, the harpsichord was restrung in phosphor bronze and steel, fortunately retaining the original undrilled tuning pins. The 8⁠´ tuning pins measure around ø5.25mm and the 4⁠´ tuning pins around ø4.7mm. These modern strings were measured and the total tension calculated to be approximately 814kg at A415 pitch before being removed. A new stringing schedule was devized and the instrument restrung with Malcolm Rose yellow brass, and P-wire. The total tension was recalculated to be approximately 874kg at A415. The scaling (c'') is 344mm. Two tuning pins on the 4⁠´ choir (#10, #25) are carefully-made replacements from the 1970s. There is no evidence of string gauge numbers having been stamped on the nuts as often seen in Kirckman instruments. There are penciled gauge numbers on the soundboard near the 4⁠´ bridge for that choir. The 8⁠´ bridge pinning is staggered to allow more uniform string lengths for the same note of alternate choirs than if they were inline. The left-facing front 8⁠´ plucks the slightly longer string. The bridge is backpinned for the bottom three notes of the 4⁠´ choir (FF,GG,GG♯), and the bottom twenty-nine notes (FF,GG–b) of the 8⁠´ choirs. As usual practice, the backpins are noticeably larger diameter than the bridge pins, and are strongly bent over the strings. The 8⁠´ nut is pierced to allow the 4⁠´ strings (from c' up) to pass through it to reach their tuning pins.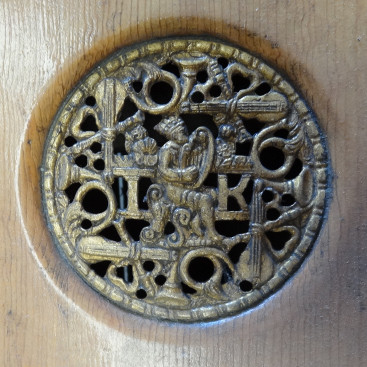 CAREY BEEBE

1773 Kirckman rose
Materials
The quarter-sawn spruce soundboard is 4mm thick at its visible front edge, and large areas have the distinctive "bear-claw" figuration. There is a half-round moulding glued and pinned to the top of the soundboard for the full width of the instrument at the gap. The bridges and nuts are beech. The oak wrestplank is veneered with mahogany, and the gap spanned by six maple gap spacers. There are two register retainers fashioned from brass rod and located between notes 16 & 17, and 43 & 44. With the exception of the spine, the oak case is veneered with crotch mahogany panels, separated by sycamore(?) stringing from the cross-banded mahogany. The three faces of the keywell are veneered likewise, but with burr walnut panels and walnut cross-banding. The nameboard batten is veneered in burr walnut. The lid and lid flaps are solid mahogany. The bottom is softwood. The instrument retains its original brasswork, although a later lock had been added to the fallboard. A lid hook eye and the central nameboard thumbscrew were missing, along with all the escutcheon pins for the lid hinges on the spine. The instrument did not originally have a music desk: The present mahogany music desk, not shown in the photo above, dates from 1971. (Note that in the photo taken for the 2012 auction catalog [see below], the music desk sled was incorrectly placed vertically directly behind the nameboard, rather than sitting flat on top of the tuning pins.) The scantlings are 18–19mm on all case sides, including the unveneered spine. The harpsichord case without lid but including bottom mouldings (not on unveneered spine) measures 2208mm long, 929mm wide and 271mm in depth. The mahogany moulded square leg trestle stand with its pedal and wooden casters appears original to the instrument and supports the bottom of the harpsichord at 613mm above the floor.
Provenance
The harpsichord was acquired by auction on July 12 2012 where it was lot 315 in Christie's London sale UK95307, Works of Art from the Collection of The late Lord Forte & An Interior by Françoise de Pfyffer. I am grateful to my colleague Claire Hammett for alerting me to this sale, along with the condition report provided on my request by my colleague Miles Hellon, and the report by Mimi Waitzman which was commissioned by Christie's. The provenance was noted in the auction catalog [see below] as "by repute the composer Charles Villiers Stanford (1852–1924) and given in settlement of a debt to (by repute) Robert Finnie McEwen (1861–1926) and by family descent to his grandson Sir Robert Lindley McEwen of Marchmont and Bardrochat, 3rd Bt (1926–1980) and sold by his widow Lady Brigid McEwen of Marchmont and Bardrochat, Christie's London, 17 November 1981, lot 54." It is believed the unnamed owner from that time kept the instrument in Switzerland.
From 1922 until that sale through Christie's in 1981, the 1773 Kirckman was kept in Marchmont House, McEwen's splendid Berwickshire seat near Duns, which he had purchased in 1913. By the mid-1970s, the house had deteriorated to a decrepit state and was being used as a nursing home. However, the regional chamber orchestra, Northern Sinfonia (since 2014 known as the Royal Northern Sinfonia), held annual concerts there for its members. Harpsichordist Layton Ring (1923–2019) played the Kirckman for at least one concert during that period, when it was tuned by John Green.
Biographer of Stanford, Jeremy Dibble, quotes a letter dated 1 February 1922 from Stanford in reduced circumstances to his patron McEwen, suggesting he might like to buy his harpsichord, which McEwen did [see below]. Further research is yet to determine when or from whom Stanford may have obtained his harpsichord. He was associated with John Alexander Fuller-Maitland (1856–1936) and William Barclay Squire (1855–1927) from their student days together at Cambridge: Those names are known in early music circles as the editors of the Fitzwilliam Virginal Book, published by Breitkopf & Härtel in 1899 and available in a modern reprint by Dover. It would seem Stanford's Kirckman harpsichord was a possession he held in high importance for many years, retaining it to near the end of his life and only reluctantly disposing of it to avert penury. It appears there was no success following his listing the Kirckman for sale through Broadwood & Sons in 1916 [see advertisement in The Connoisseur below]. Stanford was writing the letter to McEwen away from his instrument because he misquoted the year and used the original family spelling of "Kirchmann" rather than the "Kirckman" always used on their harpsichord nameboards.
The earlier history of the 1773 Kirckman is unknown.

CAREY BEEBE

Inscription on the 1773 Kirckman nameboard batten

Opening concert & recording
The restored 1763 Kirckman debuted in a program of works by Locke, Purcell, Arne and Handel broadcast live by ABC Classic FM from Sydney's City Recital Hall on Saturday November 9, 2013. On national tour for Musica Viva with Australian soprano Sara Macliver, Richard Egarr directed the Academy of Ancient Music from the harpsichord.
In August 2017, ABC Classics released Handel Great Suites, the debut solo album of Erin Helyard on the Kirckman.
---
Literature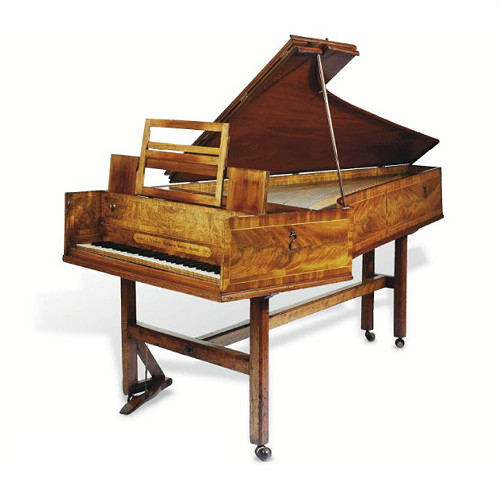 CHRISTIE'S

1773 Kirckman as pictured on p161 of Christie's 12 July 2012 auction catalogue

Christie's: Works of Art from the Collection of The late Lord Forte & An Interior by Françoise de Pfyffer, Thursday 12 July 2012, p161:
[Lot] *~315
A GEORGE III CROSSBANDED MAHOGANY-CASED
SINGLE-MANUAL HARPSICHORD
BY JACOBUS & ABRAHAM KIRCKMAN, 1773
The interior walnut crossbanded; the rose with King David between
the initials 'I.K.', inscribed [sic] 'Abraham Kirckman Londini Fecerunt 1773'
87in. (221cm.) long; 36¾˝ in (93.5cm.) wide
Compass: 5 octaves FF–f3 (no FF♯); three sets of strings and three
handstops: 4 foot, 8foot [sic]; the machine controlled by a pedal

£10,000–20,000                                        US$16,000–30,0000
                                                               €12,000–22,000

PROVENANCE:
By repute the composer Charles Villiers Stanford (1852–1924) and
given in settlement of a debt to
(by repute) Robert Finnie McEwen (1861–1926) and by family
descent to his grandson
Sir Robert Lindley McEwen of Marchmont and Bardrochat, 3rd Bt
(1926–1980) and sold by his widow
Lady Brigid McEwen of Marchmont and Bardrochat, Christie's
London, 17 November 1981, lot 54.

LITERATURE:
Donald H. Boalch, Makers of the Harpsichord & Clavichord, 1440–1840,
Oxford, 1974, p. 91.
Dibble, Jeremy, Charles Villiers Stanford: man and musician, Oxford: Oxford University Press, 2002, p458:
By 1 February 1922 Stanford reported to McEwen that his royalties had slumped and that in order to generate some income he planned to sell some of his assets:


Forgive my worrying you! But—like everyone else—-I am pretty badly hit, and one of my stand bys, Royalty accounts, have slumped about £150,—a serious matter for me. They'll get better again. Mean time I have two things which might be worth selling, and thereby I could tide over: 1. my harpsichord, a Jacob and Abraham Kirchmann of 1771 [sic], in perfect order and very pretty; 2. you might know of someone who would care to buy Herkimer's picture of C.V.S. done in 1883 (3/4 length). You have a far better thing: but someone might care for it; for the sake of the picture!

McEwen agreed to buy the harpsichord and it was later delivered to Marchmont House. As a token of his gratitude Stanford composed for his friend a setting of Ben Jonson's 'Queen and Huntress' (famously set some years later by Britten in his Serenade for tenor, horn, and strings), but of a more substantial nature, he also offered him the autograph manuscript of the Fifth Symphony (which had recently been returned by the Carnegie Trust after publication) and in Malvern on 15 April he completed a short wedding anthem, 'Veni, Creator Spiritus' (which was published by Stainer & Bell) on McEwen's request for the marriage of his daughter Katherine in July.
Boalch, Donald H, Makers of the Harpsichord and Clavichord 1440–1840, Oxford: Clarendon Press, 3rd edition edited by Charles Mould 1995, pp444,445:
Type: Single-manual harpsichord.
Date: 1773.
Ownership: R. MCEWEN, GREENLAW, BERWICKSHIRE, SCOTLAND.
Specification: 2x8⁠´, 1x4⁠´.
Additional features: Harp stop. [sic]
Compass: FF[sic]–f'''(A).
Number of roses: 1.
Previous history: Sir Chas. V. Stanford, who gave it to the present owner's grandfather. Acquired by the present owner in 1970. Restored by Dennis Woolley in 1972 [sic], including flattening of buckled soundboard, replacing portions of 8⁠´ hitchpin rail, repairs to case and pedal mechanism, and restringing and revoicing.
Information supplied by: B2/ Woolley.
Boalch 3 number: KIRKMAN, J. and A. 1773(1).
Boalch 2 number: 52.
Christie, Manson & Woods Ltd Auction Catalogue: Printed Music & Fine Musical Instruments Tuesday 17 November 1981, unpaginated:
The Property of LADY McEWEN
[Lot] 54
A FINE SINGLE MANUAL HARPSICHORD by J. & A. Kirckman 1773, the nameboard
inscribed Jacobus et Abraham Kirckman Londini Fecerunt 1773; the mahogany
case partly crossbanded, with brass strap-hinges and hooks, the interior of cross-
banded walnut, the gilt metal rose with King David between the initials "IK", on a
trestle stand, length 87in (221cm.), width 36¾in (93.4cm.)
Compass: 5 octaves; FF–f3 (no FF♯); three sets of strings and three handstops:
4 foot, 8 foot, 8 foot; the machine controlled by a pedal
It is believed that this instrument was given to Robert Finnie McEwen by the
composer Charles Villiers Stanford in payment of a debt
Cf. Boalch: Makers of the Harpsichord & Clavichord, p. 64


WIKIPEDIA

Sir Charles Villiers Stanford (1852–1924)
Boalch, Donald H, Makers of the Harpsichord and Clavichord 1440–1840, Oxford: Clarendon Press, 2nd edition 1974, p91:
No.: 52
G-D [Grove] (5 edn.) no.: —
Date: 1773
Maker(s): J&A
Kbs.: 1
Past owners: Sir Chas. V. Stanford, who gave it to the present owner's grandfather
Present owner: R. McEwen, Greenlaw, Berwicks. (1970)
Boalch, Donald H, Makers of the Harpsichord and Clavichord 1440–1840, New York: Macmillan Press, 1st edition 1956, p64:
No.: 52
G-D (5ed) no.: —
Date: 1773
Maker(s): J&A
Kb(s): 1
Past owners: Sir Charles Villiers Stanford.
Present owner:
Remarks: See The Connoisseur, vol. 46, no. 181, London, September 1916.

ARCHIVE.ORG

Advertisement in The Connoisseur, September 1916
The Connoisseur, vol. 46, no. 181, London, September 1916, pXVI
Harpsichord for Sale. —The property of Sir Charles Villiers
Stanford, Mus. Doc. A fine instrument in excellent condition,
inscribed "Jacobus et Abraham Kirckmann [sic], fecerunt Londini,
1773." One key-board, three stops, octave strings. Very fine
inlaid mahogany case with brasswork decoration. Apply for
card to view, before Sept. 20th, to JOHN BROADWOOD & SONS,
LTD., Conduit Street, London, W.
---
Outline of Work
Remove bronze & steel strings after measuring diameters and string lengths ✓
Attend to loose case veneers and lid flap batten, fit lengths of missing lid moulding ✓
Stabilize cheek/bentside dovetailed joint under veneer ✓
Rejuvenate finish with wax ✓
Disassemble & reglue loose stand front ✓
Replace failed modern treble bentside hitchpinrail section ✓
Attend to soundboard cracks ✓
Remove 1970s varnish from soundboard, wrestplank, bridges & nuts ✓
Refasten nameboard to wrestplank face ✓
Replace few missing brasswork pieces ✓
Stabilize case for supporting string tension by fixing placement of original wrestplank gap blocks and six replacement oak gap spacers ✓
Devize a stringing schedule with reference to other Kirckman instruments ✓
Restring with Malcolm Rose yellow brass crossing over to P-wire ✓
Clean, level & space keys, replace modern keyframe cloths and balance punchings with reproduction cloths ✓
Clean jacks, replace weak boar bristle springs and reinstall in instrument ✓
Check voicing and operation of action with the existing quills, revoicing as required ✓
Replace odd non-original holly tongues in front 8⁠´ (30 & 55) & back 8⁠´ (25) with boxwood tongues ✓
Replace original boxwood tongue with damaged base in back 8⁠´ (59) ✓
Reassemble machine stop ✓
Reproduce replacement stylus for 4⁠´ register ✓
Replace 1970s lid stick ✓
Make padded cover to protect instrument ✓
Reproduce a suitable Kirckman-style music desk
---
Acknowledgments
Grateful thanks to those who encouraged and assisted me: Richard Egarr, Claire Hammet, Miles Hellon, Charles Mould, Christopher Nobbs, Malcolm Rose & Mimi Waitzman (

UK

); Stephen Birkett (

CA

); Eddy Valk & Colin van der Lecq (

AU

).
---

WOLTER PEETERS / FAIRFAX MEDIA

Fine tuning: Harpsichord maker Carey Beebe with the restored 1773 instrument
which was opened by Richard Egarr leading the Academy of Ancient Music in Sydney November 9, 2013.
See the interview by Nick Galvin which appeared on page 14
of The Sydney Morning Herald and on their website November 9.
---

Single-manual harpsichord by Jacob and Abraham Kirckman, London 1773
Carey Beebe talks about his restoration of the 1773 Kirckman harpsichord.
Shot by Wolter Peeters for Fairfax Media.

---
2014 National Trust of Australia (NSW) Heritage Award (Conservation—Interiors & Objects)
See the item by Monica Heary which appeared on page 5
of St George & Sutherland Shire Leader on May 22 and on their website May 24 2014.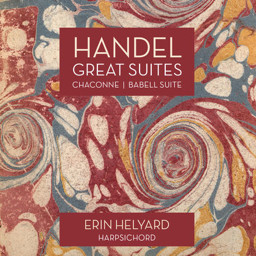 ABC CLASSICS
Handel Great Suites CD cover
---
---
---